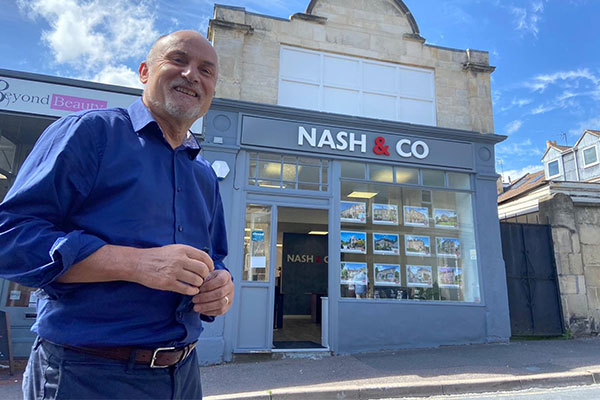 Here at Nash and Co Estate Agents, we always endeavour to provide a service based on professionalism and experience. Our staff aim to be friendly and respectful at all times and value the business our clients have given us.
Duncan Nash, centre right, is a member of the National Association of Estate Agents and has over 30 years of estate agency business experience. Initially he worked in London in the boom and bust years in the late 1980's which have stood him in good stead in understanding the ebbs and flows of the property market. Duncan moved to the south west with his family in 1991 and moved specifically into the Bath estate agency scene in 1995 as a branch manager of Palmer Snell estate agents. During the last 20 years or more, Duncan has built up a detailed knowledge of the Bath market and has a good number of clients who have continued using him over a long period of time.
Simon Butcher, left, has been with working with Duncan for over 4 years and is the Senior Negotiator at Nash & Co. He has proved to be a skilled negotiator and enjoys dealing with the variety of personalities you encounter in estate agency. Simon strongly believes that both buyers and sellers must be treated with the utmost respect and understands communication is key to keeping sales on track. Simon particularly appreciates the design and detailing of Bath's beautiful period buildings. He is a team player, and outside of work is passionate about cricket and plays regularly for a local Cricket Club.
Joanne Milton, is a naturally positive, energetic and hardworking individual, who always strives to achieve the highest standard possible, at any given task. Jo has excellent communication skills, with both the ability and experience to relate to a wide range of people, following from her 20 years of property related sales experience. In her personal life she enjoys being with her family and friends, as well as being outdoors - walking, cycling and running. Previously, she trained as an Equestrian Eventer in the U.K. and Europe, and also won a Scholarship at Stonar School, in Atworth. Her extensive travels across the world have given her breath taking experiences, which she will hold onto forever.
Paddy Bruce, has been with Nash & Co since February 2017, in a work experience role. In August of this year Paddy was deservedly offered a full time contract. Since then, he has continued to develop into a hard-working and keen sales support role, of which he is becoming a great asset to the team. Paddy is a determined sports enthusiast who has a keen interest in tennis, rugby and travelling. He is full of energy and willing to turn his hand to anything that comes his way. He is a people person, who loves to interact with anybody, as well as being a committed and adaptable individual, with an outgoing personality and friendly demeanour. He has coached tennis for the past 5 years, going from Somerset all the way to New Zealand, teaching him the importance of determination and communication skills.
Sylvain Filluzeau, is our marketing co-ordinator and has been working with Duncan on for over 15 years. Sylvain's, commitment, and reliability are second to none and he is an integral part of the backroom staff of Nash & Co. Sylvain lives locally and has a family with 2 children. In his leisure time, Sylvain enjoys his music and has previously played in local bands.